This Guest post is from R.J. Mirabel, author of The tower of Il Serrohe. Here's a sneak peek at his book. Check it out.
From "The Prologue," The Tower of Il Serrohe
Out on a lonely expanse of Seared Meadow that stretched across the mesa above Valle Abajo, Don stood in twilight, transfixed by the approach of an odd figure: a tall, lanky man leaning so far forward his head seemed to glide just above the ground, a wide toothless smile at once singular and voracious, with arms apparently clasped so tightly behind he appeared to be armless.
A voice behind Don exploded in a harsh whisper.
"Hey! Hey! What are you doing? Don't just stand there staring at the Crotalmin, come on!" Sprouting hands in the semi-darkness, the voice grabbed Don, pulling him toward a hole in the ground.
"No!" Don cried, wrestling himself away. "I'm not going into some Nohmin hole again! I'm staying here. What's the big deal anyway; this guy looks OK. Sort of."
"That 'guy' is Sliktooth of the Crotalmin clan and he needs to feed," Nersite hissed. "It's into the hole or into his stomach—which would you prefer?"
Don peered at the hole. After the last time, he'd promised himself he would not willingly go again into the claustrophobic home of his new friend, Nersite. He raised his head and looked around. Sliktooth was approaching with surprising haste and the forest was too far away to make a run for it.
"Trust me you don't want to engage Sliktooth in conversation," Nersite whispered. "It will be short and it will be your last!"
Don stared into Nersite's eyes. He seemed different since the last time Don had seen him. As best as he could see in the fading light, those beady little eyes held fear, anger, and total sincerity. He knew the essential battle within himself would not be resolved this evening so, for now, he would follow his instinct, trust the little guy, and go down into the hole.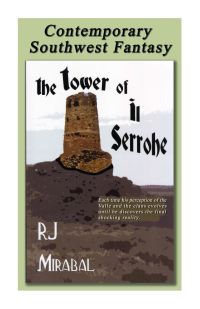 Book title: The Tower of Il Serrohe (Book 1 of Rio Grande Parallax Series)
Author:     RJ Mirabal
A man who has lost his way.
A rundown casita near the Middle Rio Grande Valley of New Mexico.
A bat offering a formidable quest to this unlikely hero.
A Portal to another valley called the Valle Abajo.
Clans in the Valle needing help to overcome the evil Soreyes.
A Tower, the mysterious source of Soreye power.
Early in the past century Teresa, a young curandera, traveled to the Valle Abajo to bring down the Tower. But the Tower still stands and Don Vargas, an alcoholic looking for escape from failure, may be the only one to destroy it.
Don travels through the Portal to the Valle, encountering beautiful Raquela and feisty Nersite who join him to fight the Soreyes. Meanwhile Nightwing, the enigmatic bat, manipulates events behind the scenes. Many surprises and revelations await as this contemporary fantasy unfolds.
Though the book ends, the story doesn't. Coming this winter, Book 2 of the Rio Grande Parallax: Extreme Dust Storms May Exist. Many familiar characters from The Tower return along with new exciting personalities to spice up the adventure:
Extreme Dust Storms May Exist:
Esther has dreams of a valley much like her Rio Luna home, yet ominously different. A bat slams its body against her window in the night. Markey, her best buddy, thinks she might be going crazy.
It is five years after the final events of The Tower of Il Serrohe and Esther, a young cousin of the missing Don Vargas, is drawn to the Portal in Don's old Casita.
In the Valle Abajo, an old enemy of the clanspeople returns. And a mysterious presence makes itself known.
Personal Comments: Why New Mexico Fantasy?
I've always loved the way fantasy and science fiction take my imagination beyond the ordinary. Realizing the obsessive creation of stories in my head meant I should be a writer, I set out to fashion a unique niche for my musings calling it Southwest Contemporary Fantasy, specifically New Mexico fantasy. Thus Don, Nersite, Raquela and all the other characters were born and sent out on their unpredictable adventures.
But like many children, they have their own ideas, and I struggle to keep up with them, attempting to tell their story as accurately as I can. I admit they share some of my life experience growing up in New Mexico with its unique culture, terrain, and climate. But at times, I wonder where these people came from!
Join me as I chronicle their adventures and challenges.
RJ's Blog: http://rjmirabal.wordpress.com/
Buy links for The Tower of Il Serrohe:
Black Rose Writing: http://goo.gl/fZXWgF
Amazon: http://goo.gl/GvXAUT
Barnes & Noble: http://goo.gl/42OHpk
Smashwords: http://goo.gl/2LmWHu
Signed copy from the author or other questions, email: rjmirabal@gmail.com
Bio: RJ Mirabal loves the Middle Rio Grande Valley having lived there for most of his life. Los Lunas High School 2006 Teacher of the Year, author RJ Mirabal, went on to win the Excellence in Education Award for NEA-New Mexico in 2007, having taught English, speech, drama and computer literacy. Now happily retired, he purses writing and music while volunteering with a motorcycle club and teachers' organizations. RJ enjoys exploring New Mexico's wilderness areas on his four-wheeler and traveling with his wife, Cheryl. The Tower of Il Serrohe is his debut novel.